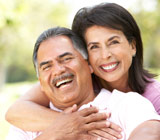 In the United States, 26% of adults between the ages of 65 and 74 years have lost all their teeth, and in other parts of the world, that percentage is even higher. Luckily, with all of the advances in modern dentistry, there are many affordable and efficient ways to replace missing teeth that are both aesthetically pleasing and functional.
Removable denture prosthetics (false teeth), are one of the most inexpensive options for replacing lost teeth, and they just might be the right option for you. Below are some answers to common questions about removable dentures. Remember, the first step to finding a solution is scheduling an appointment, so that we can develop a treatment plan that will best meet your needs.
How are removable dentures created?
First off, you should know that a considerable amount of art and science will go into the process of making your dentures. When we create your dentures, our ultimate goal will be to recreate your smile. You can even bring in photographs of your natural teeth to help guide us as we develop your dentures. First we'll make a detailed impression of the residual ridges on the top and bottom of your mouth. We'll then work with our skilled laboratory technicians to choose from many different prosthetic tooth sizes and shapes to create your natural looking smile. You'll then come into our office to try out your new teeth, and if necessary, we'll make any adjustments to make sure your smile is natural-looking!
Our Joliet, IL office hosts our on-site dental lab.  Your impressions do not have to travel very far to be created by our experienced team.  They will even do denture repairs while you wait. Check out the office video for Avid Dental, PC.
How will I wear removable dentures?
It may take a bit of practice to get used to your dentures, but once you do, it will be smooth sailing from there! You'll need to essentially relearn how to bite, chew and speak while wearing your dentures. You should come into our office for frequent checkups to ensure your dentures continue to be comfortable, and we will make any necessary adjustments along the way.
Do I still need to brush with dentures?
Absolutely! You'll want to brush your gums, tongue and the roof of your mouth every morning before you insert your dentures. And like your teeth, you should brush your dentures daily to remove food and plaque.
If you would like more information about dentures, please contact us by calling (815) 483-2040 to schedule an appointment for a complimentary denture/partial consultation. You can also learn more by reading the Dear Doctor magazine article "Removable Full Dentures."