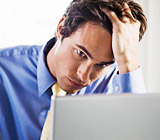 Stress is the body's normal response to an emergency. But it can quickly get out of control when a person reacts to everyday events and situations in a stressful manner. Not only does this take a mental toll on a person, it can also result in physical problems as well.
We're all familiar with some of those problems: aches and pains, gastrointestinal problems, dizziness, elevated heart rate and susceptibility to infections. But stress can also have an effect on a person's oral health. Among other causes, stress may play a role in temporomandibular joint disorder, or TMD.
The temporomandibular joints (TMJ) are located on either side of the mandible (lower jaw) where the jaw contacts the skull. The structure of the TMJ allows for forward and sideways movement of the jaw, which facilitates eating, drinking, chewing and speaking.
Sometimes, however, a traumatic stimulant can cause muscle spasms and other reactions within the joint, which can lead to severe pain. The stimulant could be metabolic, mechanical or — in the case of stress — psychological.
In some individuals the stress reaction develops into habitually clenching or grinding their teeth. The person may not even realize this is occurring, or it might even occur in their sleep. Over time the impact of this constant force leads to spasms in the muscles connected to the TMJs as a protective reaction to the clenching or grinding.
Treatment for TMD requires a strategy and may incorporate a number of different options. Dentists may recommend the application of heat, pain and/or muscle relaxation medication, jaw exercises, and a bite guard. In the case of stress-induced TMD an important option might be professional assistance in learning how to deal with stress — relaxation training or even biofeedback therapy with a trained therapist.
If you would like more information about TMD and how stress may play a role in it, please contact us by calling (815) 741-1700 or complete our TMJ questionnaire online. You can also learn more about this topic by reading the Dear Doctor magazine article "TMD — Understanding the Great Imposter."