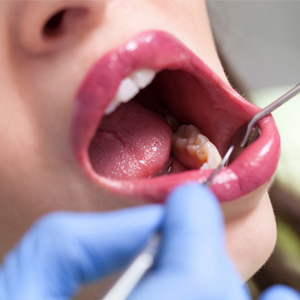 Oral cancer isn't picky: Its victims have included Motown singers and rock-n-roll guitarists, baseball players and film critics, one-half of TV's "Odd Couple" and two U.S. Presidents. And while it's still true that the majority of people who get it are older men who habitually smoke and drink, the fastest-growing group of new patients are young people of both sexes who don't. That's why it's so important to learn about the early symptoms of oral cancer — and what better time to do so than in April, which is Oral Cancer Awareness Month?
First, some numbers: In the United States, around 50,000 people are newly diagnosed with oral cancer each year, and one person dies from the disease every hour of every day. Oral cancer is two times as common in men as it is in women, and has three major risk factors: the use of tobacco in any form; the habitual consumption of alcohol; and exposure to HPV-16, the sexually transmitted human papillomavirus. Its overall 5-year survival rate is just slightly above 50%. But if caught early, the odds of successful treatment are much better.
Dentists perform oral cancer screenings at routine exams. But it's still a good idea to do a monthly self-exam for oral cancer at home. Here's how:
First, get a hand-held mirror and a bright light. Remove any dentures or oral appliances, and then open wide.
You're looking for white, red or discolored patches, persistent sores, or other abnormal features.
Examine your lips and gums, the lining of your mouth and cheeks, and your tongue.
Gently pull your tongue forward and pull lips away from teeth, so you can see them from all sides.
Feel all oral surfaces to check for any lumps, bumps or unusual masses.
Feel both sides of the neck and lower jaw for swellings or enlarged lymph nodes.
Be alert for chronic sore throat, hoarseness, or difficulty chewing, swallowing or speaking.
According to the Oral Cancer Foundation, the high mortality rate of this disease doesn't stem from its being hard to diagnose: It results from the cancer not being discovered until it has reached a later stage, when it's harder to treat. That's why recognizing the warning signs are so important. While the same mild symptoms are often caused by benign (non- serious) conditions, it takes a medical professional (and possibly a biopsy or other test) to make a definite diagnosis. So if you notice something suspicious, don't wait: tell us right away. It might just save your life.
If you have questions about oral cancer, please contact us by calling (815) 741-1700 for a consultation. You can learn more in the Dear Doctor magazine article Oral Cancer.