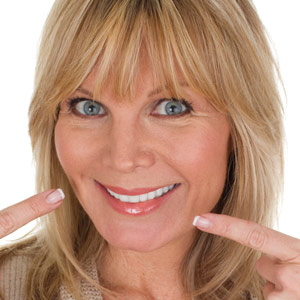 If you're seriously considering turning your "smile makeover" dream into reality it's a good idea to approach it like a home makeover. In both, there's one critical element—make sure you're working within the big picture.  A fresh coat of paint isn't quite enough to renovate a house, for example, if it also has serious foundation flaws.
The same is true about your teeth—just changing their outward appearance with porcelain veneers, crowns or other restorations may not be enough to produce the desired appearance change. This is because the real cosmetic problem could be your teeth aren't where they're supposed to be due to a malocclusion (poor bite).
Your teeth are part of an overall framework that also includes your jaws and facial structure, the elements of which all blend together to create your smile appearance. A malocclusion resulting in misaligned teeth can therefore adversely affect your smile. That's why your dentist and you may need to include orthodontic treatment in your smile transformation plan.
Orthodontics is a dental specialty that addresses occlusion (how the teeth come together and interact with each other) problems by moving teeth to better positions. While braces are the mainstay of orthodontic treatment, they're by no means the only tool in an orthodontist's tool kit, especially for complex malocclusions.
If the dentist directing your smile makeover detects a bite problem, he or she may refer you to an orthodontist for a complete assessment. Using a number of diagnostic tools like x-rays, CT scanning, mold impressions or computer modeling, an orthodontist can determine the exact nature of your malocclusion and the corrective actions to bring your teeth into proper alignment.
How your smile makeover proceeds from this point will depend on the type of malocclusion and its complexity. It will most likely involve a team approach between different specialties including orthodontics or periodontics (for the gums and other structures that support the teeth). Each team member will address some aspect of your care and work together to achieve your smile transformation.
Depending on your needs, your smile enhancement may proceed in stages and over an extensive period of time. In the end, though, your smile "renovation" will be thorough and lasting.
If you would like more information on smile transformations, please contact us or schedule a consultation by calling (815) 741-1700. You can also learn more about this topic by reading the Dear Doctor magazine article "The Magic of Orthodontics: The Original Smile Makeover."