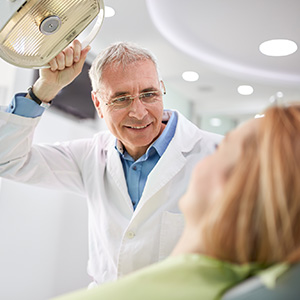 What do architects and prosthodontists have in common? An architect designs buildings with both function and aesthetics in mind; a prosthodontist designs tooth restorations for optimal function and aesthetic appeal. In fact, prosthodontists are sometimes called "smile architects," and are able to restore damaged or missing tooth and jaw structures with dentures, crowns, bridges, veneers, and other techniques.
Prosthodontics is one of the nine dental specialties recognized by the American Dental Association.  This specialty focuses on using oral prosthetics (artificial teeth, for example) to restore your smile in the most aesthetically pleasing way. The benefits of seeing a prosthodontist include:
Extensive training
After graduating from dental school, prosthodontists complete an additional 3-year program that provides in-depth training and clinical practice. Their training includes cosmetic dental procedures; diagnosis and treatment of TMJ/TMD (jaw-joint disorders) and sleep disorders; and facial reconstruction due to oral cancer, an accident or a deformity from birth.
Large-scale experience
Prosthodontists limit their practice to the restoration of teeth, gums and associated oral structures, and have extensive clinical experience in this area. Like other specialists, a prosthodontist is more likely to be familiar with state-of-the-art techniques and technology in this rapidly advancing field. Further, prosthodontists are in close communication with dental laboratory technicians to coordinate the best custom restoration for each patient.
Team leadership
Some oral health problems require multi-step procedures carried out by a team of dental professionals, including oral surgeons, periodontists, general dentists, laboratory technicians and dental hygienists. A prosthodontist is often the point person who devises an overall treatment plan and coordinates the sequence of procedures with the various health professionals.
Attention to aesthetics
In prosthodontics, oral function and cosmetic dentistry go hand in hand. Prosthodontists have a deep understanding of what goes into a beautiful, functional smile—and their clinical training and experience can help you get the best results from dental treatment.
Prosthodontists have special expertise in the treatment of missing or damaged teeth, complex problems that require full-mouth reconstruction, and many other restorative dental procedures. If you have any questions about the specialty, please contact us by calling (815) 741-1700 for a consultation.